Dance of Life – Yoga and Healing
Find us on the premises of St Marks Church, 250 George Street, Fitzroy. The Dance of Life is a long established yoga school and healing centre in the heart of Fitzroy, just north of Melbourne's CBD. We are committed to spiritual, emotional and physical health, happiness and peace of mind. Our philosophy is simply to open the mind and heart to the Infinite in each and everyone. Yoga and dance classes for all levels of experience from beginner to advanced are held 7 days/week. We also offer mums and bubs classes and pregnancy/ prenatal yoga instruction. Click here for our timetable and more information about the teachers at Dance of Life. Practitioners from diverse backgrounds such as shiatsu, massage, arts therapy, kinesiology, dance movement therapy, body mind centering come together under one roof to work holistically towards your health.
Regular Yoga Workshops
Contact Nina if you're interested in attending, or if you have specific workshop topics you'd like see addressed.
You can find and join the Facebook group here.
Sat, April 29th 1:15pm: Adho Mukha and Transitions
We'll be looking at downward dog in depth, at its variations, at what is generally called the half vinyasa or vignette, and play with dogs! Commit to your breath in transitions; find approaches to a chaturanga practice; safe and comfortable in bhujangasana; jumping and stepping up/ through; comfortable and aware in adho mukha svanasana. … And I'm sure we'll find many other aspects to examine

Contact Nina for details, to register and pay – cost is $30.
Please book in!
Time: 1:15pm
Location: Dance of Life, Fitzroy
All practitioners, all experiences welcome
Feel free to join the Facebook event.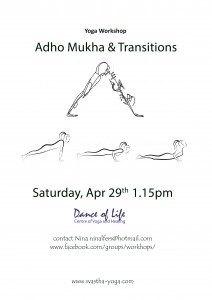 Contact Nina if you're interested in attending, or if you have specific workshop topics you'd like see addressed.
You can find and join the Facebook group here.
Sat, May 6th 1:15pm: Moving with Ease
Learn how to use body and breath for grace and strength. More info to follow

Mindfulness Meditation Course
Join Ingrid Jolley in the launch of an inspiring and life changing 8 week Mindfulness Meditation Course. The course teaches specific mindfulness skills and practices which are designed to be incorporated into everyday life. Assisting you to develop more mental, emotional and physical wellbeing and resilience.WHEN: Sunday 7th May – 2nd July 9.30 – 12 noon (No class on the 18th June)
MINDFULNESS RETREAT – 18th June – 10am – 4pm at Aireys Inlet (1.5hr drive from Melbourne)
INVESTMENT: $250 (special launch offer)
BOOKINGS: email
ingridepjolley@hotmail.com
 or call 0433891775 to enquire or enrol.For more details visit:
ingridjolleyyoga.com.au
*This is an accredited Mindfulness Based Stress Reduction Course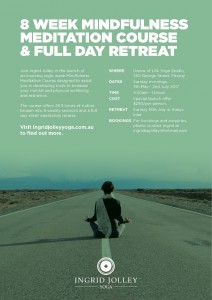 Yoga Philosophy Workshop series with Bryan
Seven steps to understanding the meaning of life, the universe and everything else.
When: Sundays 10am till 1pm March 19 till 30 April 2017
Cost: All sessions in total $210/$175. First three sessions essential. Per session $35/$30
This is a series of three hour workshops where the meaning of life from a yoga perspective will be discussed.
These are not simply dogmatic theories involving blind faith but are based on philosophical logic and perceptual experience.
Expect to read and discuss Yoga and Samkhya philosophy and see for yourself how these systems interact to explain the world we live in. Much of the information is covered in the writings of Sri Hariharananda Arunya; a Samkhyan scholar from the last century. It is all there in the Samkhyan Karika and the Yoga Sutras when you know where and how to look.
Each workshop will cover a series of topics that build up the picture of the universe and where we stand in it. You will have ample time to get all the questions you ever needed to ask about yoga answered.
There will be Chai available.
After this series of workshops you will understand what yoga is about and where it can go.
Outline:
The first week covers the causes of the universe, the Gunas, the 25 Samkhyan Tattvas, who you are and your purpose in life.
The second week moves on to the mind and how it works, covering Karma and reincarnation.
The third week discusses creation and the concept of Isvara.
The fourth deals with the Yamas and the Niyamas and purifying the mind.
The fifth week discusses the states of mind and how to stop them.
The sixth week suggests seven ways to calm the mind.
The last week covers Mindfulness and the techniques of Shraddha, Virya and Smrti.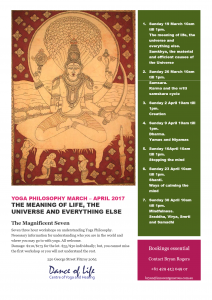 Yoga Therapy with Bryan
When: By appointment only
Offered by: Bryan Rogers. Contact Bryan Rogers on +61 429 413 049 or bryan@innocentgenerous.com.au for an appointment
Where: Private sessions for people at the DOL studio and from his home in West Heidelberg.
Cost: $50 per session.
Most of our current health problems are caused by stress and wrong lifestyle or attitudinal habits. Yoga Therapy endeavours to get to the root of these issues by relaxation, breath work, simple structured exercises, herbs, diet, meditation, sound and lifestyle changes that you can implement for yourself with help from Bryan.
Yoga Therapy can help with physical problems associated with the back, shoulders, neck, hips and knees. It is also useful in depression and anxiety.
 
Community Class every last Sunday of the Month 3-4.30pm with Annie
This class is designed for everyone. In order to make yoga accessible, this class is offered on a plastic note donation basis (suggested). In line with the philosophy of accessibility and inclusivity, all levels are welcome. Whether it is your very first time doing yoga or you have been practicing for 30 years. The class caters to all needs and levels, with lots of options so everyone feels comfortable to either move slowly (or not at all) or to push themselves and explore the more challenging aspects of yoga. Followed by chai and chat.
Queer and Trans inclusive Yoga Class with Anu
This is a weekly, by donation, all-inclusive class for the LGBTIQA+ community and their friends. Everyone is welcome to join this class, including absolute beginners. There may be options to go stronger if you have more experience and wish to do this. Classes include movement and breath, breathing exercises, concentration, mindfulness and guided relaxation and meditation. For further information and to find out class days and times, please visit www.facebook.com/qtiyoga. To keep up to date, like and follow the Facebook page and subscribe to events: www.facebook.com/qtiyoga/events. Please contact Anu at qtiyoga@gmail.com with any questions.
Mum's and Bubs yoga!
We still have some spots left so contact Ingrid if you are keen to trial a class: ingridepjolley@hotmail.com  or 0433 891 775
Thursdays – 2-3pm (chai and snacks 3-4pm) $18 to trial a class at any time.
Double Dip at DOL
Wednesdays, Thursdays and Fridays are double dip days!
Come to…
…Wednesdays 5:15pm and the 7:30pm class is free
… Thursdays 6:30am  and the 5:30pm class is free
…Fridays  7:30am and the 10am class is free
Yogafest Retreat Somers – Queens Birthday Weekend June 9-12
Join us for a weekend full of yoga, masterclasses, workshops, philosophy discussions, meditation, fresh sea air, walks in nature, healthy vegetarian food, chanting and more, right on the stunning beach at Somers, Mornington Peninsula, Victoria.
Yogafest Retreat Somers is one of Australia's longest running events of its kind, held biannually right on the edge of the sea.
Each event brings together some of Melbourne's most committed and experienced teachers (all present or past teachers at Dance of Life). Yogafest Retreat and is run purely by volunteers with all money raised going directly to the charitable humanitarian work of Mata Amritanandamayi (Amma).
We cater for students and enthusiasts of all levels, whether you are new to yoga and meditation or are a seasoned practitioner. We would love you to join us next June! Secure your spot now. 
More info Yogafestretreat.com 
Kirtan
Kirtan dates as follows:
8 April
Like us on Facebook to stay informed.
Donations go, as usual, to Amma's charities.