Dance of Life – Yoga and Healing
Find us on the premises of St Marks Church, 250 George Street, Fitzroy. The Dance of Life is a long established yoga school and healing centre in the heart of Fitzroy, just north of Melbourne's CBD. We are committed to spiritual, emotional and physical health, happiness and peace of mind. Our philosophy is simply to open the mind and heart to the Infinite in each and everyone. Yoga and dance classes for all levels of experience from beginner to advanced are held 7 days/week. We also offer mums and bubs classes and pregnancy/ prenatal yoga instruction. Click here for our timetable and more information about the teachers at Dance of Life. Practitioners from diverse backgrounds such as shiatsu, massage, arts therapy, kinesiology, dance movement therapy, body mind centering come together under one roof to work holistically towards your health.
---
 Kirtan
Kirtan dates as follows:
December 22  2018
Like us on Facebook to stay informed.
Donations go, as usual, to Amma's charities.
---
Yoga Intensives 2019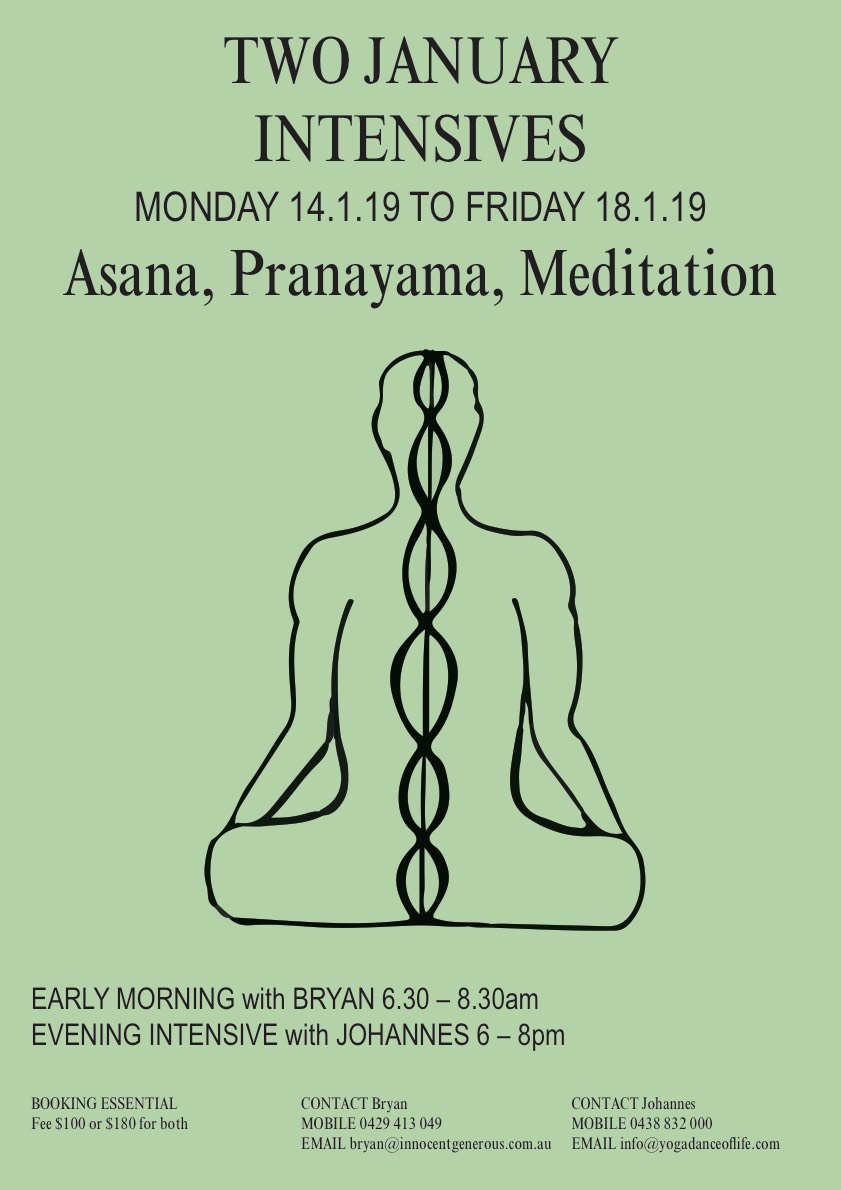 ---
Philip Island Yoga Retreat 2019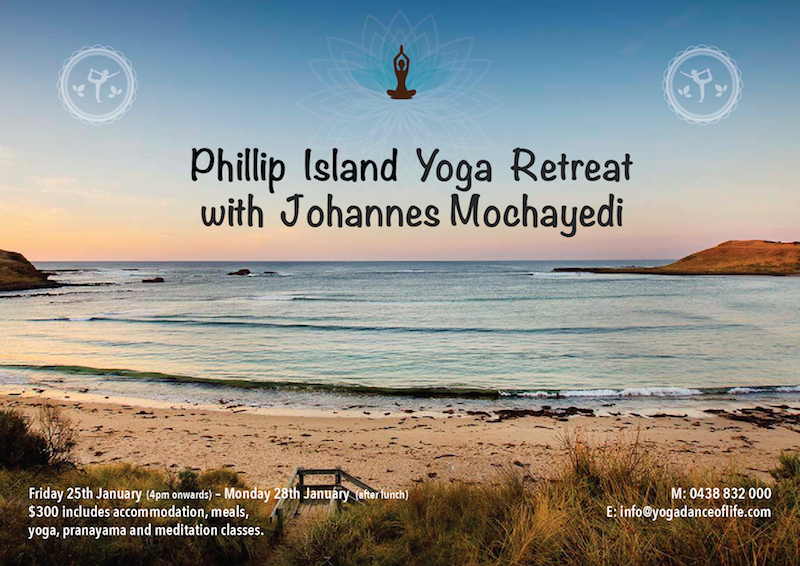 ---
Azimuth Arts Harmonic Baths
Spring/Summer 18/19
Award winning producer, composer and multi-instrumentalist Amarevois brings together 30 years of experience in sound design, audio engineering, music performance and meditation to create a sonic atmosphere or harmonic bath.
This 90 minute journey bathes the listener in the complex harmonics of live instruments such as gongs, bowls, drums, bells, chimes and cymbals, as well as flute, voice and wind harp. The effect of these frequencies is complemented by sparse electronic textures, drones and reverberation algorithms.
This unique experience offers you an opportunity to rebalance your vital energies and connect directly with universal spaciousness, as you listen from a deeper place of alert stillness to these elemental soundscapes.
---
Regular Yoga Workshops
Contact Nina if you're interested in attending, or if you have specific workshop topics you'd like see addressed.
You can find and join the Facebook group here.
Saturday February 9th: Safe Shoulders in Transitions
Shoulders
We like to think they can handle a bit of work… And in the process we often over-indulge in detrimental behaviours – both while stretching and strengthening.
In this workshop, we'll look into the anatomy of the shoulder joint to understand better what strains operate in the area, Then we'll examine our asana practices for opportunities to become aware of shoulder work and how this can be done more mindfully and safely. Finally we'll look into way fo approaching transitions with the mindset of keeping the shoulders safe.
All levels welcome!!!
Contact Nina for details, to register and pay.
Time: 1.15pm
Location: Dance of Life, Fitzroy
All practitioners, all experiences welcome
Feel free to join the Facebook event.

---
Yoga Therapy with Bryan
When: By appointment only
Offered by: Bryan Rogers. Contact Bryan Rogers on +61 429 413 049 or bryan@innocentgenerous.com.au for an appointment
Where: Private sessions for people at the DOL studio and from his home in West Heidelberg.
Cost: $50 per session.
Most of our current health problems are caused by stress and wrong lifestyle or attitudinal habits. Yoga Therapy endeavours to get to the root of these issues by relaxation, breath work, simple structured exercises, herbs, diet, meditation, sound and lifestyle changes that you can implement for yourself with help from Bryan.
Yoga Therapy can help with physical problems associated with the back, shoulders, neck, hips and knees. It is also useful in depression and anxiety.

---
Double Dip at DOL
Wednesdays, Thursdays and Fridays are double dip days!
Come to…
…Wednesdays 5:15pm and the 7:30pm class is free
… Thursdays 6:30am  and the 5:30pm class is free
…Fridays  7:30am and the 10am class is free
---