Easter Weekend Studio Closed
No classes from April Friday 19th – Monday 22nd
---
Easter Weekend Philip Island Yoga Retreat 2019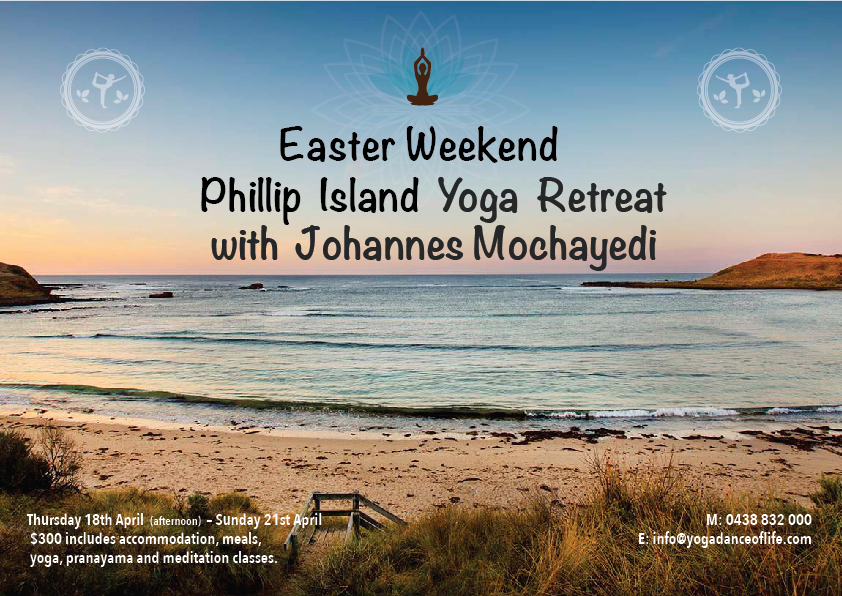 ---
Regular Yoga Workshops
Contact Nina if you're interested in attending, or if you have specific workshop topics you'd like see addressed.
You can find and join the Facebook group here.
Upcoming:
Sunday May 5th 1pm: Back to Basics Series – Surya Namaskar
Attention! Workshops now held on Sundays!
May 5th we'll be looking more closely at Surya Namaskar, sun salutations, or what is also understood as 'vinyasa'.
What is the background to these movement patterns, how to execute them correctly, how to transition, breathe and amend, are just a few of the questions we will be addressing in this workshop.
All levels welcome, whether you are new to the practice or a seasoned yogi who wants to revisit some 'basics'.
Contact Nina for details, to register and pay.
Time: 1pm
Location: Dance of Life, Fitzroy
All practitioners, all experiences welcome
Feel free to join the Facebook event.
---
Yoga Therapy with Bryan
When: By appointment only
Offered by: Bryan Rogers. Contact Bryan Rogers on +61 429 413 049 or bryan@innocentgenerous.com.au for an appointment
Where: Private sessions for people at the DOL studio and from his home in West Heidelberg.
Cost: $50 per session.
Most of our current health problems are caused by stress and wrong lifestyle or attitudinal habits. Yoga Therapy endeavours to get to the root of these issues by relaxation, breath work, simple structured exercises, herbs, diet, meditation, sound and lifestyle changes that you can implement for yourself with help from Bryan.
Yoga Therapy can help with physical problems associated with the back, shoulders, neck, hips and knees. It is also useful in depression and anxiety.

---
Double Dip at DOL
Wednesdays, Thursdays and Fridays are double dip days!
Come to…
…Wednesdays 5:15pm and the 7:30pm class is free
… Thursdays 6:30am  and the 5:30pm class is free
…Fridays  7:30am and the 10am class is free
---